Impact dryers
Impact dryers are designed for moisture damage drying of targeted areas. They can be used for drying various stone-based materials, such as concrete, brick and masonry.
A single unit is best used for drying areas damaged by broken water pipe, such as bathrooms or kitchens. Impact dryers are designed for drying areas sized from 1 to 10 m².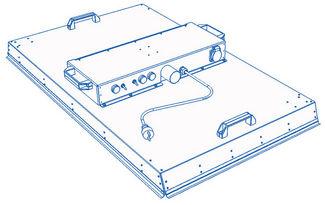 Using multiple units simultaneously to cover larger damaged areas will effectively shorten the drying time. This capability is especially appreciated where shortest possible damage repair time is essential (i.e. hospitals, schools, power plants).
Impact dryers can also be used in combination with common air dehumidifiers. In certain cases, these device types complete each other. The impact dryer should be placed on areas with the worst moisture damages and whereas the dehumidifier would handle drying of the overall room space.
Air circulated surface drying was invented in Finland in 1990´s. Since then this method and equipment have evolved far. The STR-600 Impact Dryer brings the capabilities to a new level using most effective heating and air circulation system.